Holy Week Schedule
Monday
Holy Communion
5:30 p.m.
Tuesday
Holy Communion
5:30 p.m.
Wednesday
Holy Communion
5:30 p.m.
Lenten Supper & Program
6:15 p.m.
Thursday
Maundy Thursday Services
5:30 p.m.
Friday
Good Friday Services
Noon to 4:00 p.m.
Noon Office of Morning Prayer
12:45 Noonday Prayers
1:00 Litany for a Christian Life
1:15 NONE from the Holy Hours
1:30 A Short Litany of Penitence
1:45 Evening Prayers
2:00 Last Seven Words of Christ
2:30 Stations of the Cross
3:00 Good Friday Liturgy
Note: There will be a period of meditation between each service for people to come and go as necessary.
Sunday Schedule

Morning Prayer
&
Holy Communion
8:30 a.m.

Church School
9:30 a.m.

Holy Communion
10:30 a.m.
---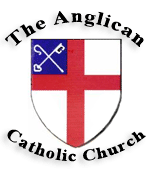 Anglican Catholic Church
---
---

Fr. George"s Weather Station